CHARTER FISHING LAKE ERIE IN ASHTABULA, GENEVA AND CONNEAUT OHIO
Many anglers try charter fishing Lake Erie just for a day of fishing.  Others are looking for the "catch of a lifetime"  Whatever your choice is, walleye, smallmouth bass, yellow perch, salmon or steelhead trout, charter fishing Lake Erie regularly reward anglers with that trophy catch they came for.
Charter fishing Lake Erie  is second to none.  Lucky Strike fishing charters has put many trophy fish on the wall over the years and customers continue coming back for more. 
Captain Art will be happy to guide you on your next walleye fishing charter on Lake Erie or whatever your other wishes may be.  Check with some of our customers and ask them about their personal experiences and hopefully you will call us for your next walleye or other charter fishing Lake Erie trip.
Own a business?  Executive boat charters are our specialty and we will tailor a trip to your specific needs.  Multiple boats can be arranged.  For prime dates book early to secure the dates you desire.  Hope to hear from you soon.
BOOK A CHARTER FISHING LAKE ERIE TRIP TODAY!
---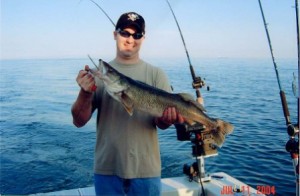 Here's a couple of shots of a lucky angler, Pat Sommers with a 32" 10# walleye caught on 7/11/2004.  At first I tried to talk Pat into fishing for perch.....I bet you're happy you stayed with the walleye!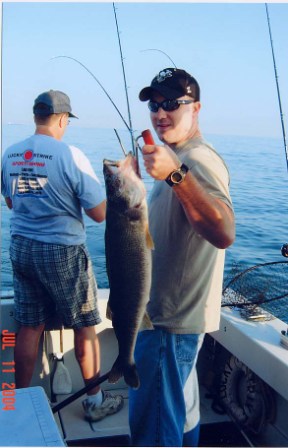 Here is a copy/paste of Pat's own comments sent to me in  an email:
Art,
Feel free to use the following if you wish. If not, feel free to put something else together. I appreciate all that you have done, and if you need me for a reference feel free.  " You cannot ask for anything better than what Lucky Strike Sport fishing has to offer. A great captain with tons of experience and understanding, excellent equipment, and the opportunity for the catch of a lifetime. Our group couldn't have asked for a better fishing trip.
Thanks again Art, that was awesome. Pat Sommers - Homeworth, Oh. "
 Pat Sommers, Reduction Engineering, Conair Pelletizer Team, 4430 Crystal Parkway, Kent, OH      724-967-1358
---
What can I tell you about the Lucky Strike and the captain.  This is a sterling, first class operation which I have had the pleasure of being on many times.  I'm sure Captain Art will exceed all of your expectations.
I have been around and owned boats all of my life.  If anyone does not understand what it takes to make a quality sport fishing boat give me a call.  I will be happy to inform you what it takes and believe me with the quality of a Rampage and the equipment aboard the Lucky Strike you will be happy that you made it your choice of charters.
Donald Gubany
Murphy Contracting Co.
285 Andrews Ave.
Youngstown, OH 44505
Telephone 330-565-1309
---
 

A day fishing on Lake Erie is one of those special treasures in this life. Combine that with a fishing trip with Capt. Art Miller and you have something truly spectacular. I've known Capt. Art for more then 30 years and he is a world class fisherman as well as an excellent bow hunter. A day on the water with Capt. Art means great fishing in great company. Thumbs up, The best! Capt. Neville Robeson Copenhagen Charters Sanibel Marina, Sanibel Island Florida.

Phone: (239) 466-2664     Email: turbondr@aol.com
---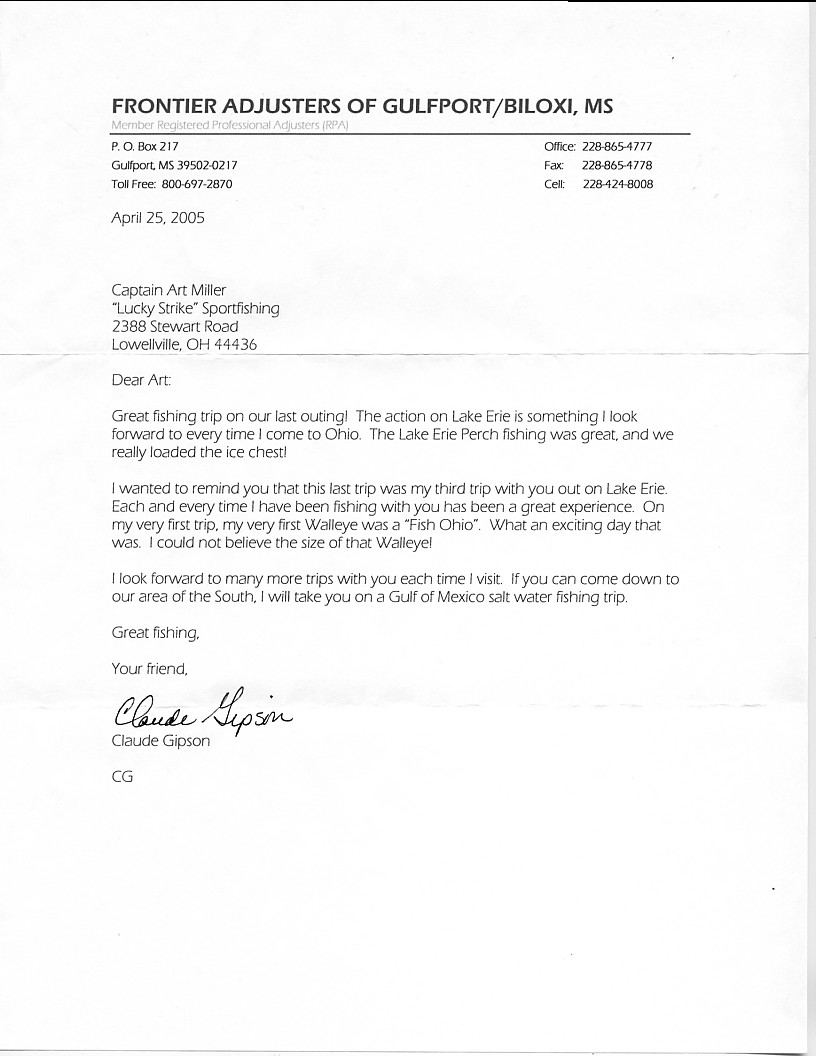 ---
June 5th 2007
To The Captain (Art Miller) Of the Lucky Strike Sport Fishing Vessel
            I have fished with you on several trips through the years. I have brought my Father, my children, my wife, my friends and my children's friends. I have never gone home disappointed with my charter, or with my catch. I have had exceptional catches of both walleye and perch. You have put us on fish many times, it is up to us to catch them. You may use any of the pictures taken with myself or with my friends and family for a testimonial. It would be an honor to have our pictures on your web site.
Thanks for all of the wonderful memories, and we are looking forward to many more.
Bill Klingensmith
330-547-6477
---
I have attached a few of the better photos that Hannah took on the trip.  You asked that we remind you about sending to the state on Jake's fish.  It weighed about 9 1/2 pounds and was 29 inches long. 
 Thank you again for a most memorable trip.  You are an outstanding host even under adverse situations.  We tell all our friends if they want to take a charter to go with the lucky strike.  Hopefully, some of them will call you!
 The Priesters      Please feel free to post & add our phone number! 724-662-3051
---
Captain Art,
 Lanee and I wanted to send you a letter of thanks for a perfect weekend.  My friends and family had the time of their life fishing for walleye with you on the Lucky Strike.  We had back to back days with limits on walleyes; not to mention a few trophies!  Our freezers will be full!  Everybody's arms are sore from reeling in so many fish!  This was my third year in a row with you on the Lucky Strike and I'm already looking forward to next year.  We have limited out on walleye every time we have gone with you!  Thanks again for showing my customers, family and friends what Lake Erie walleye fishing is all about!
See you in July!
 Shawn, Lanee and Maryn Tanferi
---
                         Art,
I wanted to take the time to really thank you for the great charters we have booked with you in the past. My friend Pat, still cannot get over the perch we took last summer. I hope the fishing remains good for our next trip. I hope to get some pictures next time around of a "FISH OHIO" for the family.
Thanks again.
Ron Barker
Niles, Ohio
---
                                     Thank you
Tuesday, March 10, 2009 4:41 PM
From:
Captain Art Miller.
Dear Captain Miller,
I wanted to take a few minutes of your time to let you know the Walleye fishing trip that my friends and I booked with Lucky Strike Charter Services was one that we will remember for many years thanks to you, your skill, knowledge of Lake Erie, where to find the fish and your efforts.  The Lucky Strike boat was very comfortable, well equipped with the gear and equipment we needed to have a great day.
Our community of Ashtabula, Ohio has many charter services to select from however we could not have made a better choice even if we sat down at the marinas watching the boats come in for week!
We had a great time and you produced the fish.  Even when it they slowed down a bit you had the knowledge of other locations and different colors to change too.  We were the envy of the marina when we came in with our catch and limit.
I set out to make this trip a great memory for my friends and you came through with flying colors for which we are all grateful.  We plan to be on board the Lucky Strike again this summer.
Sincerely,
Jeff Plant
---
***AVAILABLE CHARTER DATES***
If you would like to see if a certain date is available for your next
charter

fishing Lake Erie call us at
440-997-7010 or 440-599-1028
---
 For your next charter fishing Lake Erie, fishing for the elusive trophy walleye, yellow perch, smallmouth bass, or steelhead trout call Captain Art at 440-997-7010 or 440-599-1028.  We are docked in Ashtabula Ohio, Lake Erie and regularly fish the Lake Erie waters of Ashtabula, Geneva, and Conneaut, OH
LUCKY STRIKE Sport fishing - charter fishing Lake Erie             
6101 McNutt Ave.
Ashtabula, Ohio 44004
United States - fishing charter boat captains - sport fishing charters - charter fishing Lake Erie, Ashtabula, Ohio
Visit the "LUCKY STRIKE" at the dock, lucky #7 at Kister Marina, Ashtabula, Ohio
                   Email:

If you would like to request general information about charter fishing Lake Erie click

ask the captain
Lucky Strike........an Ashtabula Ohio Lake Erie fishing charter boat bringing corporate, executive, business, novice and experienced anglers from all over the world an exciting fresh water fishing experience.  Ladies.....no need to let the men have all the fun.  Get your group together and let the guys play Mr. mom while you go fishing!  Fish with us and see why Lake Erie has been dubbed "the walleye capital of the world" and find out why Ashtabula, Ohio is home of legendary walleye catches!
LUCKY STRIKE Sport fishing - Charter fishing Lake Erie