LAKE ERIE WALLEYE CHARTERS IN ASHTABULA, GENEVA AND CONNEAUT OHIO
Lake Erie walleye charters are what people head to Ashtabula Ohio for.  Our area of Lake Erie is well known for the size of the walleye caught in our area.  Visit us and try your chance of catching your trophy walleye of a lifetime!  Lucky Strike Lake Erie walleye charters offer a few things the completion can't provide!  Call the captain for details!       
Whatever your wish.......yellow perch, smallmouth bass, steelhead trout, or
LAKE ERIE WALLEYE CHARTERS 
With 2.25 million Lake Erie acres, 451 miles of the Ohio River, 40,000 miles of streams, some 200 inland lakes and thousands of private ponds, Ohio anglers have great opportunities to catch fish that qualify for the "Fish Ohio" recognition program, according to the Ohio Department of Natural Resources (ODNR) Division of Wildlife.
The "Fish Ohio" program recognizes anglers for noteworthy catches in 19 fish species. Last year, 12,855 anglers from across Ohio were recognized for their "Fish Ohio" catches. Since 1976, more than 350,000 anglers have been recognized.  Guess where the top honors come from, year after year?  You guessed it.......none other than LAKE ERIE walleye charters have led the way for the top spot for walleye, yellow perch and smallmouth bass awards......and our area, Ashtabula Ohio ~ home of legendary walleye catches!
Trophy walleye received the highest number of entries with more than 3,000 - Lake Erie is the top place to catch them and our home port of Ashtabula, Ohio has a long standing reputation for producing trophy Lake Erie walleye charters!  Why not book your next Lake Erie charter with a full time captain who has over 30 years of experience fishing the great lakes.  We regularly fish the ports of Geneva, Ashtabula, and Conneaut, OH
LAKE ERIE WALLEYE CHARTERS ~ ASHTABULA, OHIO - HOME OF LEGENDARY WALLEYE CATCHES!
Captain Art Miller takes pride in everything he does, whether it be an oil change on the "LUCKY STRIKE", your next Ashtabula fishing charter, or landing that trophy fish for you on your next Lake Erie charter fishing trip.  You will observe this the minute you step foot aboard and notice the quality and maintenance of the equipment you use as well as the sport fishing charter boat you will be on.  I think you just had a strike......set your hook on the LUCKY STRIKE!  We fish the Ohio waters of Lake Erie out of the ports of Geneva, Ashtabula, and Conneaut, OH with Ashtabula, Ohio being our home port for over 30 years!!
April kicks off the start of the Lake Erie charter fishing season and what better way to get started than pitching and cranking for Lake Erie walleye.  The western basin of Lake Erie provides good catches of walleye for the drift and cast fisherman.  The traditional weight forward spinners and jigs tipped with live bait work well.  Good size yellow perch are readily available.   A great way to get rid of those winter blues.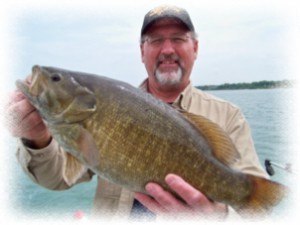 May signals the start of smallmouth bass activity on Lake Erie as water temperatures warm into the 50's.  These bronzebacks are excellent fighters and can be casted or trolled for.  Early walleye and perch activity continues to be good as the Lake Erie waters continue to warm.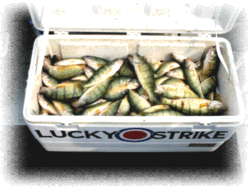 Junes warming waters help set up thermo clines which help concentrate fish offshore.  Lake Erie's central basin shows mixed catches of perch, smallmouth bass, and walleye.  Steelhead trout are really coming into their own in the lake due to excellent stocking programs and all of the adjoining states DNR's working together.  Planer boards and minnow imitating plugs account for many mixed bags of fish.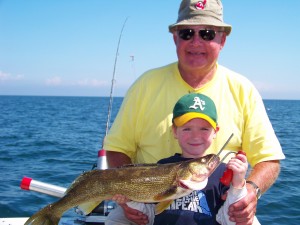 July provides consistent fishing on Lake Erie.  Lake Erie's central basin Lake Erie walleye charters activity is in full swing.  Trophy walleyes over 8 pounds are quite common.  Summer steelhead trout catches seem to keep getting better each year.  If you have never had a 15+ pound steelhead trout on the tackle end of your line beware.......the action provided by these freshwater tarpon can only be described as awesome!  Trolling trips eight plus miles offshore fishing with planer boards, dipsy divers, wire line, and downriggers yield many quality catches. 
August is a prime month on Lake Erie.  Lake Erie's central basin walleye fishing continues to be excellent.  Offshore trolling trips over 10 miles are the norm, fishing with crawler harnesses, body baits and spoons rigged off dipsy divers, downriggers, and planer boards.  During mid month perch begin to concentrate near shore.  Women anglers.....let Lucky Strike add your picture here!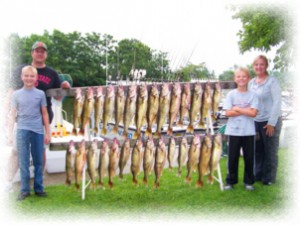 September perch fishing on Lake Erie gets into full swing.  We continue to catch walleyes on our Lake Erie walleye charters into October, though not as fast paced as the prime summer months, as they are on their migratory moves.  We begin to see steelhead trout show up near shore  and even famous rock stars show up to do battle with these huge fish!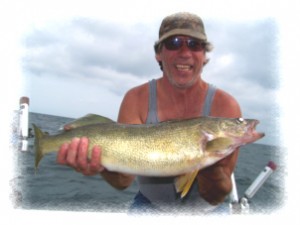 October fishing duplicates September's as long as gale force winds do not force us off the water.  Depending on our geographic location we can catch steelhead trout such as this beautiful fish as well as excellent yellow perch.  We try to fish as long as the weather allows us and the marinas stay opened.  Soon the boat will be put away for winter before we get the onset of freezing weather. 
---
LAKE ERIE WALLEYE CHARTERS FISH CLEANING
Please note that there are two options for fish cleaning:
1)  Have your fish cleaned in the harbor by one of our professional fish cleaners or
2)  Take your fish home to clean.
Please note that these are your two options.  There are no public fish cleaning areas.
---
***AVAILABLE CHARTER DATES***
If you would like to see if a certain date is available for your next
Lake Erie walleye charters call us at

440-997-7010 or 440-599-1028
---
For your next Lake Erie walleye charters on Lake Erie, fishing for the elusive trophy walleye, yellow perch, smallmouth bass, or steelhead trout call Captain Art at 440-997-7010 or 440-599-1028.  We are docked in Ashtabula Ohio, Lake Erie and regularly fish the Lake Erie ports of Ashtabula, Geneva, and Conneaut, OH
LUCKY STRIKE Sport fishing - Lake Erie walleye charters             
6101 McNutt Ave.
Ashtabula, Ohio 44004
United States - fishing charter boat captains - sport fishing charters - Lake Erie walleye charters Ashtabula, Ohio
Visit the "LUCKY STRIKE" at the dock, lucky #7 at Kister Marina, Ashtabula, Ohio
        Email:  

If you would like to request general information about Lake Erie fishing charters click

ask the captain
Lucky Strike........an Ashtabula Ohio Lake Erie fishing charter boat bringing corporate, executive, business, novice and experienced anglers from all over the world an exciting fresh water fishing experience.  Ladies.....no need to let the men have all the fun.  Get your group together and let the guys play Mr. mom while you go fishing!  Fish with us and see why Lake Erie has been dubbed "the walleye capital of the world" and find out why Ashtabula, Ohio is home of legendary walleye catches
http://www.Lake-Erie-fishing-charters.com             http://www.Lake-Erie-walleye-fishing-charters.com 
---

LUCKY STRIKE Sport fishing - Lake Erie walleye charters